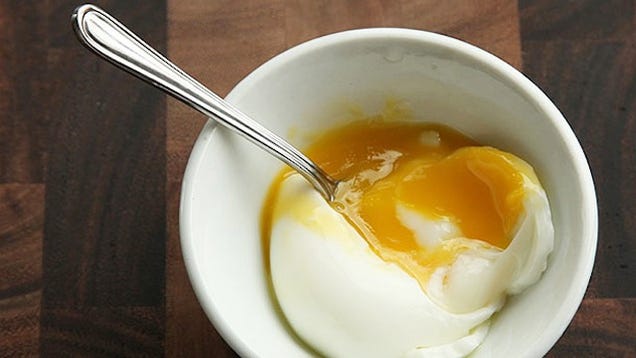 You may not think of sous-vide as the perfect cooking method for cooking eggs, but J. Kenji Lopez-Alt over at Serious Eats shows us that if you can control the temperature of your water, all you need is time to end up with deliciously poached, soft boiled, or hard boiled eggs, all in the shell.
By cooking eggs for 13 minutes at 167°F, you eliminate the need for the seconds-accurate timing you'd need with boiling or simmering water.
The slightly higher temperature also builds in a temperature gradient—the whites get hotter than the yolks. Thus you end up with an egg with a yolk that is just barely beginning to thicken and a white that is relatively firm. With this method, the thin white will not thicken completely and will drop away easily from firm tight white.
How To Peel Hard-Cooked Eggs Easily:
This is what I do:
I leave the hard-cooked eggs in the pan they were cooked in and add cold water. I then crack the eggs under water (this seems to help loosen the membrane under the shell).
Start peeling at the larger end, (the flat side) where the air pocket is, and remove the shell under running water to make the shelling easier. You must get a hold of the membrane under the shell when you remove the shell.
Very fresh eggs are harder to peel. The fresher the eggs, the more the shell membranes cling tenaciously to the shells.