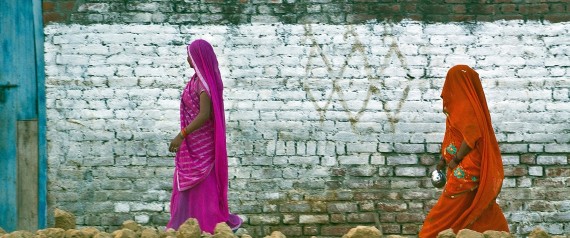 A reeling Indian village where two teen cousins were brutally gang raped and hanged may be able to sleep more soundly now that new toilets have been installed in the area.
Last May, the 14- and 15-year-old girls from Katra village in Uttar Pradesh state were gang raped and hanged from a mango tree in the middle of the night while they were going out in the fields to relieve themselves, the Associated Press reported. Outraged residents protested and blamed police inaction for the crime, but a nonprofit that provides sanitation to the poor isn't going to wait around for corrupt authorities to reform their laws.
Sulabh International recently installed 108 toilets in the impoverished area instead, the BBC reported.
Every 30 minutes a woman in India is raped, and it's often the impoverished women who relieve themselves in the open who are targeted.
Across India, more than 600 million people (more than 53 percent of the population) don't have access to private toilets, according to the World Bank, an inconvenience that becomes particularly pernicious when women urinate or defecate late at night or at dawn to avoid being embarrassed by going in broad daylight.
Advocates, like nonprofit Sulabh International, believe that making sanitation available could be key in curbing sexual assaults around India. So, after the teens' rapes and murders rocked the area, Sulabh decided to support the rural village and put the new latrines there on Sunday, the BBC reported.
"Absence of toilets in houses, particularly in rural areas, is behind such incidents of rapes and sexual assaults in villages," Sulabh founder Bindeshwar Pathak told the Hindu. "This campaign is the most fitting tribute to the girls whose death triggered a national debate on women's right to safe toilets."
Since 1970, Sulabh has brought its environmentally friendly and affordable toilets to 1.2 million homes and has installed 8,000 such public latrines, according to the organization's website.
It hopes to better protect poor women without private latrines and to empower manual scavengers. Hundreds of thousands of low-caste Indians are forced to clean human waste with their bare hands, despite recent laws prohibiting such demeaning and hazardous work.
Though the punishment can be severe — four Indian men were sentenced to death after they took turns raping a 23-year-old who eventually died from sustained injuries — such crimes are still rampant in the country because the police force is so corrupt.
The police in India are notoriously understaffed, underpaid and unfamiliar with how to address crimes against women, The New York Times reported last January. Victims also often fear police officers themselves, who have been known to assault women when they report crimes, according to the Sydney Morning Herald.
Pathak estimates that India still needs 120 million additional toilets, and hopes the government will follow his lead.
But some officials aren't optimistic that such an undertaking will happen.
"This data clearly proves that the public money has been flushed away in the toilets," Alok Ranjan, a senior government official, told the news outlet.
(via huff post)